Wild Turkey 101 Straight Bourbon Whiskey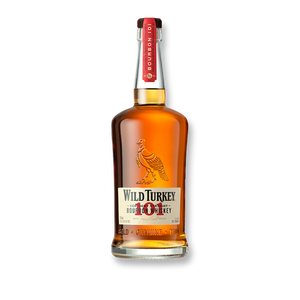 Wild Turkey 101 is America's #1 selling premium bourbon and one of the most well-known Bourbon Brands in the world. Aged in American White Oak barrels coated in the deepest alligator char, Wild Turkey 101 has an impossible-to-miss character. This brings out a complexity and depth of flavour that has been winning fans for generations.  But the 101 is special. It is made from the best casks of Wild Turkey and served up at "101 proof" (50.5% ABV) — which is how the Whiskey gets its name and the reason that the flavours are so complex and powerful.
Flavour Profile
Tasting Notes
Colour
Dark Amber.
Nose
Fresh cream, pecan pie, warm buttered toast, and clove.
Palate

Powerful with nutmeg, cinnamon, milk chocolate truffle, more pecans, and creamy toffee.
Finish
Long and bold with signature Wild Turkey spice and orange peel.