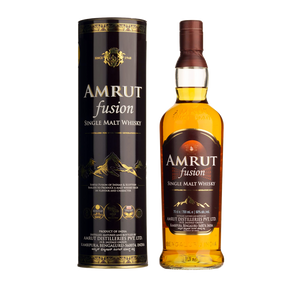 AMRUT is the legendary Indian Single Malt Distillery. It is best known for its eponymous AMRUT line of single malt whiskies, which is the first single malt whisky to be made in India. The distillery's name AMRUT comes from Indian mythology and means Nectar of life in Sanskrit.
An incredible combination of 75% Cask Strength Single Malt and 25% Cask Strength Peated Single Malt, are further aged to create this multi-award winning whisky. Amrut Fusion is the result of a blend of two special vintages from the Bangalore malt distillery. The first vintage is made from malted barley harvested at the foot of the Himalayas, while the second is produced using malted Scottish barley that has been dried with peat smoke. Each is aged separately at almost tropical temperatures that accelerate the aging process. The result, a wonderfully rounded single malt with average peatiness, non-chill filtered and bottled at 50% ABV!
Whisky Advocate said; "Balance, complexity, and surprising maturity for its age... these are the defining characteristics of the best Indian whisky I have ever tasted".
Jim Murray rated it 97 points and said; "One of the great whiskies found anywhere in the world".  He went on to name it "3rd best Whisky in the World" in the Whisky Bible.
Flavour Profile
Tasting Notes
Colour
Antique Gold.
Nose
Solid, refined. Honey initially emerges alongside sandalwood and roasted malt. It develops notes of candied citrus fruit, marzipan, liquorice and spices.
Palate
Powerful, lively. Malted barley is very present here, as are exotic fruits (pineapple, mango). Full and complex with caramelized crème brûlée, and a bit of Mexican chocolate. Delicately woody. Gingerbread.
Finish
Long on the palate, it mellows with notes of malting barley. Its creaminess is heightened by notes of salted butter. Full of character.
Awards
2021


Beverage Testing Institute (Gold)

2021


Ultimate Spirits Challenge

(Highly Recommended, 92 points)

2021


San Francisco World Spirits Competition (Gold)

2020


International Wine and Spirits Competition (Gold)



2010
Jim Murray's Whisky Bible rated 97/100 (3rd Best Whisky in the World)