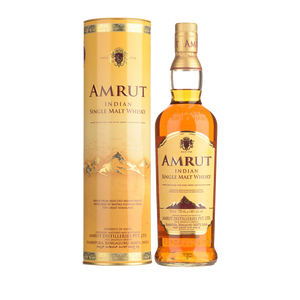 AMRUT is the legendary Indian Single Malt Distillery. It is best known for its eponymous AMRUT line of single malt whiskies, which is the first single malt whisky to be made in India. The distillery's name AMRUT comes from Indian mythology and means Nectar of life in Sanskrit.
Indian Single Malt is AMRUT's flagship expression, showing their signature character of spice, fruit and honey. Bottled at 46%, it has the depth of flavour needed to properly showcase the distillery. Indian Single Malt has been the benchmark for the identity of Indian whiskies since 2004. Made from malted barley from the Punjab provinces, this whisky is marked by spices and ripe fruit and is gently aged in new American Oak barrels and ex-Bourbon barrels. This is literally "THE" original Indian single malt!
Amrut whiskies are aged in cellars more than 1,000 metres above sea level. This altitude and the tropical climate favour exchanges between the wood and the distillate, acting as a real ageing accelerator.
Flavour Profile
Tasting Notes
Colour
Golden yellow.
Nose
Distinctly confidant liquorice-bourbon notes with near perfect bitter-sweet balance; burnt honeycomb and toffee also abound.
Palate
Outstanding richness and sheen to the enormous barley-oak sweetness. Again there is a big bourbony cut to the cloth with all the liquorice and molasses sugar normally associated; but the barley adds that extra dimension.
Finish
Long, wonderfully layered oak offering variations of a sweet dry theme; a touch silky with some cream toffee in the end.
Awards
2021


Beverage Testing Institute (Gold)

2021


Ultimate Spirits Challenge

(Highly Recommended, 94 points)

2021


San Francisco World Spirits Competition (Gold)