Benromach Contrasts: Organic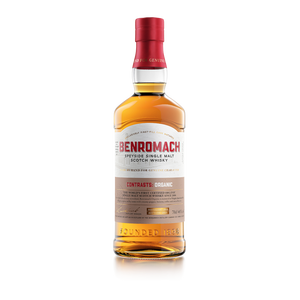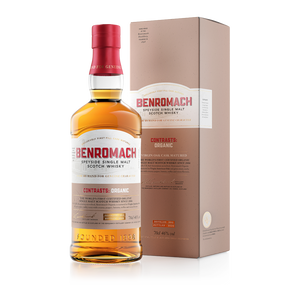 The Benromach Contrasts range is a range of small batch produced whiskies that allows the distiller to get creative with their vintage expressions! Benromach Contrasts: Organic is the world's first certified organic single malt whisky since 2006 with the UK Soil Association accrediting from start to finish. This release of Benromach Contrasts: Organic was distilled in 2012 and matured in virgin American oak casks for nine years, before being bottled in 2021.
It is unique for being a higher ABV release from Benromach at 46%, being NON-Peated and one of their few non-sherried releases!
FLAVOUR PROFILE
TASTING NOTES
COLOUR
Golden Amber
NOSE
On the nose you'll find notes of warm vanilla and citrus zest followed by crisp apples and dates. Fudge, coconut husks, a touch of singed barley.
PALATE
Soft, creamy mouth-feel with notes of butterscotch, banana, pancakes with salted butter, marmalade, and a dash of cracked peppercorn for spice.
FINISH
A well-rounded malt. The finish is medium-to-long with some orange and cocoa notes with a vanilla-rich, biscuity hint lingering.