Benromach Contrasts: Peat Smoke Sherry Cask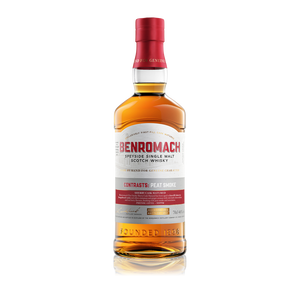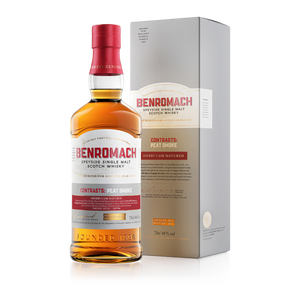 A new limited edition single malt, Benromach Peat Smoke Sherry Cask Matured, joins the Contrasts range with fewer than 2,000 bottles released in the UK.
Laid down in 2012 before being bottled in 2021, this expression is natural in colour and non-chill filtered with the perfect 46% ABV! This Single Malt was aged exclusively in first-fill Oloroso sherry hogshead casks and produced in very small batches, using barley malted with high levels of peat smoke at 55ppm. The results are a magical combination of cinnamon and ginger aromas with rich dark chocolate and stewed red berry flavour, leading to a full finish of peat smoke and sweetness.
FLAVOUR PROFILE
TASTING NOTES
COLOUR
Light Mahogany
NOSE
Rich, creamy toffee, demerara sugar and bonfire smoke, with one of the biggest smoked bacon notes.  It's not all sweet toffee and smoke, it's fruity too. Seville orange peel, appealing cinnamon and ginger aromas with rich dark chocolate.
PALATE
More of the rich toffee from the first fill sherry, with a luxuriously thick mouth feel. Cocoa powder and sweet, creamy honeycomb accompany stewed red berries. Subtle vanilla and cracked black pepper lead to toasted almonds.
FINISH
A full finish with Morello cherry, peat smoke and sweetness.