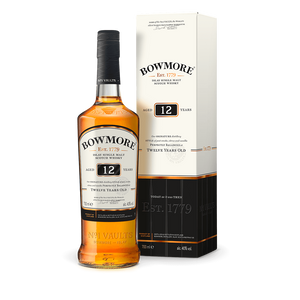 Established in 1779 by local merchant David Simpson, Bowmore is one of the oldest distilleries on Islay and the first to receive a license! This storied distillery lies on the west coast of Islay, where the sea and native peat give rise to one of the most recognized smoky drams in the single-malt Whisky world.
Bowmore Islay 12 year old is the very heart of the Bowmore range of single malt Whiskies.The Bowmore 12 Year Old Single Malt is a return to the classic Bowmores of the 1960s and '70s, with the emphasis on tropical fruit and smoke.
Flavour Profile
Tasting Notes
COLOUR
Warm Amber. 
NOSE
Subtle lemon and honey, balanced beautifully by Bowmore's trademark peaty smokiness.
PALATE
Lovely and rounded, honeyed even. Vanilla, perfumed smoke and coastal elements develop. Warm and delicious on the palate with subtle dark chocolate flavours.
FINISH
Sea spray, citrus, trademark gentle peat smoke, leading to a delicious, long and mellow finish.