Condesa Clásica Extra Dry Gin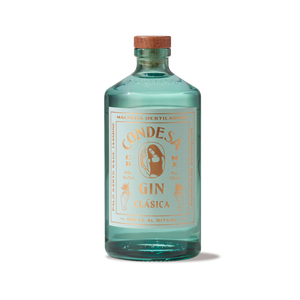 An extra dry gin from the heart of Mexico City, this unique gin celebrates Mexico's luscious flora and curandera healing ceremonies. Infused with palo santo, sage, jasmine, juniper berries, coriander seeds, elderflower, lavender, rosemary, cedron, myrrh, lime peel and orange peel!
Condesa is Micro-batch crafted in Mexico City by Hillhamn Salome and her all female distilling team at Flor de Luna. This excellent gin has a perfect balance of verve and finesse.
Condesa Clásica Gin expands on a powerful botanical base of juniper to explore distinctly Mexican aromatics and spiritual traditions. Distilled using copper pot stills and built upon a Mexican-sourced neutral grain distillate of corn, rye, wheat, and barley; thirteen botanicals including juniper, palo santo, white sage, jasmine, coriander, elderflower, lavender, rosemary, cedron, myrrh, lime & orange zests echo the curandera (healer) traditions that use many of these same ingredients to cleanse negative energy, attract love, and expand consciousness. Jasmine, white sage, and the citrusy, faintly confectionary wood of the Palo Santo tree dominate this unique yet approachable gin. Bottles at 43% ABV.