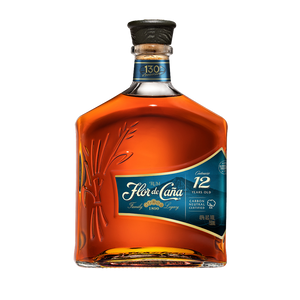 SUGAR FREE, GLUTEN FREE & KOSHER
Flor de Caña (meaning "flower of the cane") is one of the most recognized Rums in the world. For 130 years, Flor de Caña Rums have produced the highest quality Central American Rums on the flanks of San Cristobal volcano in Chichigalpa, Nicaragua.
An exceptional 12-year-old, super premium rum aged in bourbon casks to obtain its uniquely smooth and well-balanced finish. Sustainably crafted, from field to bottle, at a 5th generation family estate since 1890 and naturally aged without artificial ingredients at the base of a tropical volcano!

This is fine sipping rum, with flavours like toffee apple and buttery vanilla. We love it. We also love the fact that the distillery is certified carbon neutral and fair trade, using 100% renewable energy and offsetting any emissions through planting trees – a whopping 50,000 of them a year since 2005!
Flavour Profile
Tasting Notes
Colour
Amber.
Nose
Caramel and butterscotch scents on the nose with hints of oak spice and orange peel. An aroma of chocolate is also present. 
Palate
Aromas translate into flavors of oak and wood spice with a lovely presence of treacle, caramel and vanilla.
Finish
Clean and crisp finish with traces of chocolate and spices, with a refreshing burst of oak spice.