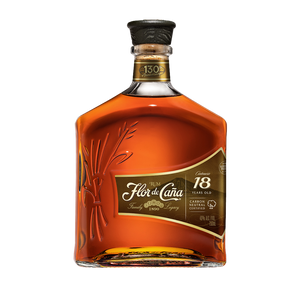 Flor de Caña is naturally aged in small white oak bourbon barrels sealed with plantain leaves, producing a distinguished and elegant Rum with tropical notes.
This is a stunning, 18-year-old brilliant amber ultra-premium Rum that is full-bodied, with a rich complexity of flavors and a smooth finish that lingers on the palate. Almost two decades go into its production, and the tradition and artisanal excellence behind it can be savored in every drop. Labeled "Among the Finest Products in the World" by the San Francisco World Spirits Competition.
SUGAR FREE, GLUTEN FREE & KOSHER
Flavour Profile
Tasting Notes
Colour
Bright Mahogany.
Nose
Full of rich oak spice, some zesty orange peel, dark brown sugars, dark caramel toffee and nutmeg. Also hints of cinnamon, vanilla and anise.
Palate
Dry and spicy, with layers of cocoa, dark caramel and spice. A strong oak presence.
Finish
Long, smooth and clean. Presence of walnut, dark chocolate.