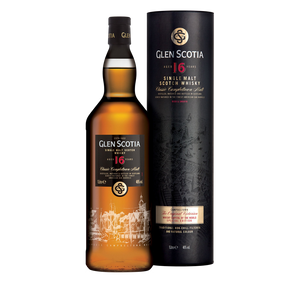 Glen Scotia, sometimes affectionately known as The Scotia or Old Scotia was founded in 1832 and is one of just three distilleries left in Campbeltown, the smallest whisky region in Scotland! Whisky from the region is fantastic and highly sought after with demand constantly outstripping supply, making the whisky difficult to come by. The distillery was awarded Scotland's Distillery of the Year 2021 at the San Francisco World Spirits Competition 2021. The distillery still maintains much of its original design, including the fermenters, the stillroom, and the dunnage warehouse dating from the 1830s.
Glen Scotia 16 Year Old Single Malt is an exceptional single malt whisky matured from specially selected bourbon and oak American casks that deliver the true character of a 16 year old Campbeltown malt whisky! The signature nose has hints of vanilla oak, interwoven with the subtle notes of sea spray and spicy aromatic fruits.
Flavour Profile
Tasting Notes
Colour
AmberGold.
Nose
Fresh costal and floral notes give way to softer caramel and vanilla.
Palate
Rich sherry flavours, toffee, raisins and roasted hazelnut. Apricot and orange add more subtle fruit notes.
Finish
Long dry finish with touches of peat combining with nutty elements, creamy malt and earthy vanilla.