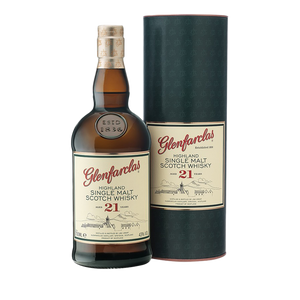 Founded in 1836 by Robert Hay but sold to the Grant family in 1865, Glenfarclas has always been, and it seems will remain to be, one of Scotland's only family run distilleries.
Prized by connoisseurs, the single malt whiskies of Glenfarclas are matured almost solely in sherry butts and are aged in the substantial onsite warehousing facilities. Glenfarclas 21 Year Old Single Malt Scotch Whisky is aged solely in Oloroso Sherry Casks. It is rich and thick with a heavy influence of the Sherry casks it has aged in for more than two decades.
Glenfarclas has produced an incredibly rounded whisky, with complex aromas that leaves you refreshed and contented. A whisky that always deserves a second glass.

Flavour Profile
Tasting Notes
Colour
Dark Amber-Gold.
Nose
Deeply complex. Intense, full of Aromas – sherried fruit, tropical fruit; notes of caramel apples, banana, warm pecans, nutmeg and almonds with slight citrus notes at the end.
Palate
Full bodied rich and rounded. Dark chocolate, raisins and figs with toffee develops slowly into fruity and spicy flavours.
Finish
Long-lasting and smooth with a chocolate feel at the back of your throat.