Jim Beam Kentucky Straight Bourbon Whiskey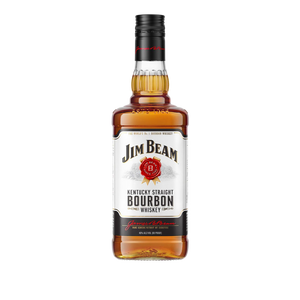 Jim Beam is one of the oldest names in the business and one of the best-selling bourbon brands in the US and the world. It was founded pre-prohibition and had one of the rare licenses to continue to operate through Prohibition to create "medicinal" alcohol.
Made to the same formula since 1795, Jim Beam White Label is aged for four years in oak barrels to create a smooth, mellow taste with hints of spice.
Flavour Profile
Tasting Notes
Colour
Light Maple. 
Nose
Banana chips and almond. A young but discernible oak presence with a touch of cornbread. Bit of light brown sugar, cherry, and a mild sweet smoke layer.
Palate
Vanilla, and air of nuttiness. Good body with notes of toasty oak and all the requisite notes of vanilla and crème anglaise, a little spice and pepper.
Finish
Clove or licorice builds with toasty oak.