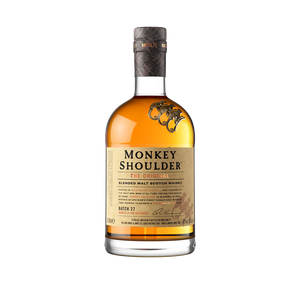 Monkey Shoulder Scotch is a superb blended malt whisky from William Grant, made with single malts from three famous Speyside distilleries. The result is a smooth, creamy, supple and very malty Scotch which works superbly well neat, over ice, or in whisky cocktails (where it really excels).
Flavour Profile
Tasting Notes
Colour
Aged Copper.
Nose
Spicy wood, marmalade, cocoa and malt. Plenty of vanilla and a sprinkling of winter spice (nutmeg, cloves and cinnamon) alongside a mouth-watering hint of aniseed.
Palate
Very malty, creamy delivery with a suggestion of berry fruit. Juicy toasted barley, cloves and butterscotch. Manuka honey, hot-buttered-toast and dried apricot develop.
Finish
The finish is smooth with lingering notes of fruit and oak.