Pendleton Canadian Whisky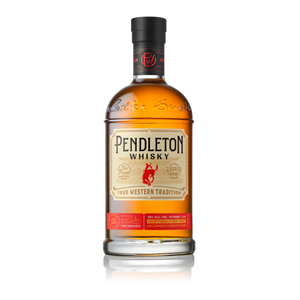 Pendleton crafts ultra-premium whiskies distilled in Canada from the finest northern grains and cut with glacier-fed water from Mt. Hood, Oregon's highest peak.
Pendleton Whisky is an oak barrel-aged whisky that delivers an uncommonly smooth taste and rich, complex flavor.
Pendleton Whisky was specifically created to celebrate the bold spirit of independence and hard-work ethic of the American cowboy and cowgirl. It is the official spirit of ProRodeo and the official whisky of PBR. Each Pendleton Whisky bottle prominently features the rodeo's famous bucking horse symbol and Let'er Buck slogan.
Flavour Profile
Tasting Notes
COLOUR
Warm Gold.
NOSE

Vanilla, honey, butterscotch, and custard join together for a pleasing aroma. Hint of freshly grated cinnamon bark.
PALATE
Warm fall fruits and honey are balanced with a hint of spice to balance the flavor.
FINISH
A medium balance and smooth lingering finish.