Stagg Jr. Straight Bourbon Whiskey (Batch 14)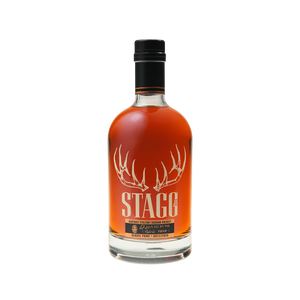 One of the most iconic bourbon whiskeys of the last 10 years, Stagg Jr is world-renowned as a powerhouse barrel-proof bourbon. Named after George T. Stagg, the man who build the most dominant American distillery of the 19th century today known as Buffalo Trace Distillery.
Stagg Jr is one of the most highly sought after bourbons in the world! Each year, Buffalo Trace releases two batches of Stagg Jr Bourbon in highly limited quantities. It's a robust barrel-proof release that packs a punch, delivering all the signature Bourbon and Buffalo Trace flavors.
Batch 14 was bottled un-chillfiltered at 130.2 proof (65.1% ABV) after nearly a decade of maturation. A classic Stagg Jr release, and a must-have for collectors of BT's mashbill 1.
Flavour Profile
Tasting Notes
Colour
Dark Maple.
Nose
Brown sugar, pecan, maple, beautifully rich; dark honey, ripe peach and cherry, vanilla frosting, spiced apple and orange, a lot of charred oak and cinnamon, and more subtle hints of licorice. 
Palate
A big entrance with huge honey, citrus, apple, dark cherry, vanilla, oak, and cinnamon with less licorice. Thick and syrupy!
Finish

Honey, orange, apple, cinnamon, and coffee grounds that fades into a dried citrus and apple peel, almost as if it were apple brandy finished.