Stranahan's Original Single Malt Whiskey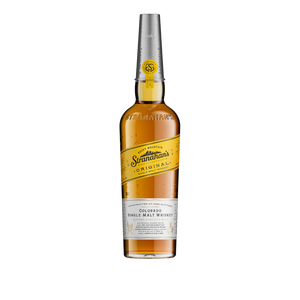 Hailing out of the Mile High City, Stranahan's claims the mantle of the number one American Single Malt whiskey.
Stranahan's Single Malt contains 100% malted barley, as required for an American Single Malt. Moreover, Stranahan's boasts four simple ingredients for their entire production process. Beyond the malted barley, this includes yeast, time in the barrel, and Rocky Mountain water.
Stranahan's Original is a small batch American single malt whiskey, aged in new American oak barrels with a #3 char for a minimum of 4 years, before being cut to proof with Rocky Mountain Spring water. Made with locally sourced grains, Rocky Mountain spring water, and patience. Every bottle is a marriage of barrels aged for 4, 5, 6, and 7 years. Non-chill filtered, and 47% ABV for a bold flavor. Enjoy neat, on the rocks, or in your favorite classic whiskey cocktail.
Flavour Profile



Tasting Notes
Colour
Golden Amber.
Nose
Caramel-butterscotch, vanilla, maple syrup, leather.
Palate
Cinnamon-butter, vanilla, chocolate, warm caramel & spiced pear; flows over the tongue like table cream & melted brown sugar, finishing with a hint of cayenne, rich tobacco, oak & aged leather.
Finish
It leads off with banana initially that merges with coconut before transitioning into a chocolate-covered hazelnut note. All of this coupled with a underlying buttery taste and texture adds up to a smoothie like adventure.
Awards
2021


San Francisco World Spirits Competition (Double Gold)

2021
LA Spirits Awards (Platinum) - Best NA Single Malt Whiskey

2021


SIP Awards (Double Gold)

2020
New York INTL Spirits Competition (Gold)