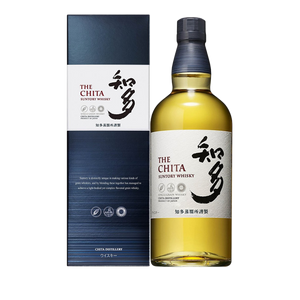 Chita is the serenity of Japanese whisky, from the inventive grain whisky distillery in the Chita Peninsula dedicated to the pursuit of making diverse grain whiskies. Through a rare continuous distillation process using two, three or four columns, the Chita Distillery mainly creates three types of grain whisky—clean, medium, and heavy. These whiskies have been aged in a variety of casks before coming together to produce the Chita Single Grain Whisky.
Sublimely smooth, versatile, and complex with subtle sweetness, Chita is embraced as the innovation single grain Japanese whisky from the award-winning House of Suntory Whisky.
Flavour Profile
Tasting Notes
Colour
Bright Gold.
Nose
Crème brûlée, cardamom, acacia honey, blossoming rose.
Palate
Mild and smooth, hint of mint, deep honey. Notes of mango, orange-blossom honey, and roasted grain.


Finish
Clean and clear, spiced oak with subtle bittersweet notes