Waterford Organic Gaia Edition 1.1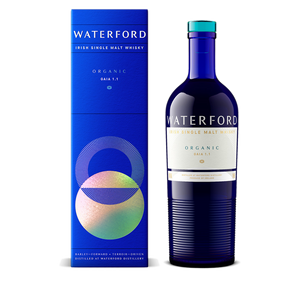 ARCADIAN SERIES
Waterford Distillery is located on the banks of the River Suir, in Waterford, Ireland. Originally a high-tech Guinness brewery, the site was purchased by a private team and converted to distillation in 2015. Waterford uses only 100% Irish malted barley from 86 Farms - including Organic, Biodynamic and Heritage grains, grown on 19 terroirs across the South East of Ireland.
Organic Gaia Edition 1.1, is Ireland's first whisky distilled from certified organic Irish barley!
For The Arcadian Series, Waterford sought out maverick farmers, and inspirational growers whose ethos and way of life respects the land and the old ways in the pursuit of pure flavours over yield imperatives. 
This expression uses Irish barley grown by seven different farmers, and matured in a combination 42% first fill US oak, 17% virgin US oak, 23% premium French oak and 18% Vin Doux Naturel.
This is a totally natural whisky, with no colouring, chill-filtration or additives whatsoever.
Flavour Profile
Tasting Notes
Colour
Golden Honey
Nose
Orange zest, malty figs, seaweed, hay in the field after light rain, salted caramel, peppermint, rosewater, freshly turned soil.
Palate
Heat and zesty pepper on the tongue, cloves, figs, oiliness that dries in the mouth, cherries, butterscotch, pears, malty, layers of spice.
Finish
Long and zesty oiliness that dries, but leaves you chewing; a sweetness that comes right at the end.
Each bottle of Organic Gaia Edition 1.1, has a TÉIREOIR code, which offers an unparalleled level of bottling information on the barley, maps, imagery and even audio from the farms.

Enter TÉIREOIR CODE here