Wild Turkey Rare Breed Bourbon Whiskey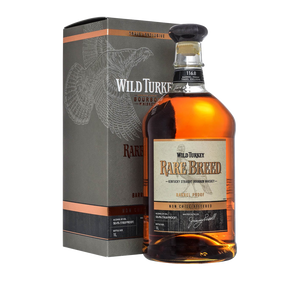 Wild Turkey Rare Breed Kentucky Straight Bourbon Whiskey was first released in 1991 and along with Booker's Bourbon, remains one of the longest running barrel proof bourbons on the market. It's the original "small batch" barrel proof bourbon and consists of a blend of their finest  6-, 8-, and 12-year bourbon, no water is added before bottling, for a curated sipping experience like drinking straight from the cask.
Unlike regular bottlings' of Rear Breed, this version is Non-Chilled Filtered, meaning you get the full flavour profile of the whiskey! The intense vanilla and exceptional mouthfeel have made this expression a legend in its own right—best enjoyed neat or on the rocks.
Flavour Profile



Tasting Notes
Colour
Deep Amber.
Nose
Scents of roasted nuts, cinnamon and toffee, a touch of black pepper and almonds, mixed with layers of honey and dates.
Palate
Caramel sauce blends nicely with the flavors of peanut brittle while Flan shows off its vanilla/custard creaminess. Heat from the rye (and proof) are easy to manage with notes of red pepper flakes ginger root allspice and cinnamon. There's even a little bit of mint in there too. caramel and chocolate.
Finish
A pleasant finish of oak, tobacco spice, cut herbs, brown sugar and white pepper.